Milo and His Mundo
(Proposal)
Picture Book, 32 pages
By Lalena Fisher

Every day, the colorful quetzal bird listens for his favorite words: "Milo, Milo, pájaro quetzal!" Then he knows his best friend Mundo has come to see him at the zoo. The boy shares with Milo exciting news from his daily life in Mexico using short phrases in Spanish. One day, however, Mundo stops coming to see Milo. Milo asks the parrot, javelina, and tree-frog: "Where is Mundo?" But nobody knows. Milo waits on the low branch of his tree, hoping his friend will turn up. Finally he gets news of his friend's biggest adventure so far — a new life for Mundo in a new land — and finds an exciting new beginning for himself too.

Milo and His Mundo is a 750-word, bilingual picture book revolving around friendship, and change. The repetition of key phrases in dual languages familiarize the reader with Spanish and also introduce them to a few basic cultural aspects of Mexico.

Here are a few sample illustrations and spreads from the sketched dummy book. To see the full dummy, please contact me.



pages 10-11

pages 14-15

pages 16-17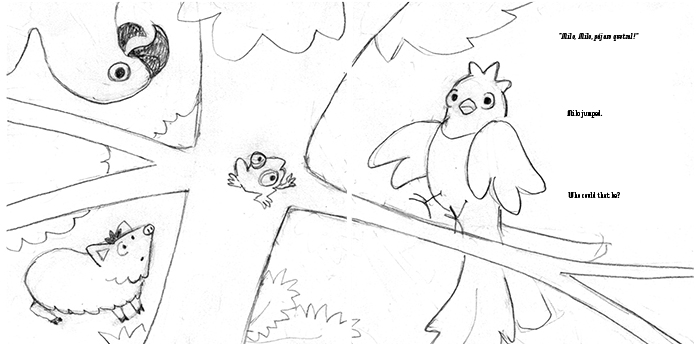 pages 28-29

page 32